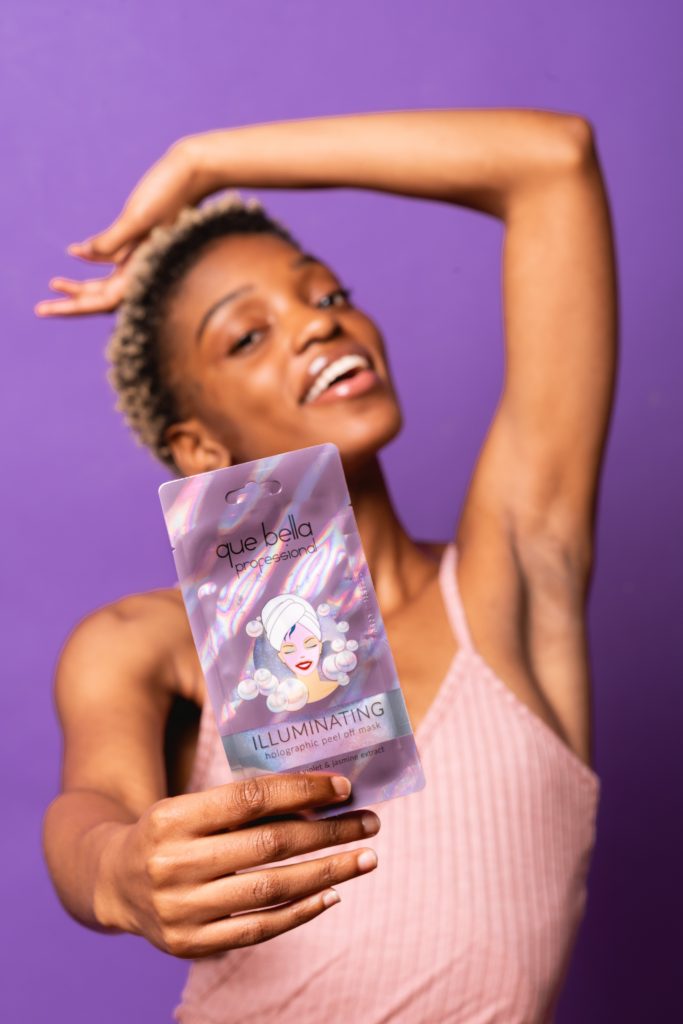 So you're looking for a mask to make your skin glow, but what does that mean exactly? What we tend to mean by glowing skin, is that dewy and moisturised look gained from removing the top layer of dead skin cells from the face. With Que Bella, you can choose from a selection of four masks which can each help you to achieve this dreamy complexion.
Our gold peel off mask offers ultimate luxury, leaving your skin looking soft, refreshed and brighter. Its ingredients include: Sodium Hyaluronate – reinforcing skin's short and long term moisturisation and helping to plump up the tissue; Standardised Rose Water Organic – with skin conditioning properties; and Gold Cosmetica 975 Powder No. 9 – containing real gold powder.
Que Bella Rose Gold Peel Off Mask
If rose gold is your thing, try this mask for a twist on the above. Our rose gold peel off mask brings all of the same nourishing ingredients but with added Powdered Rose Quartz. In its powdered form, it may be used to buff away dead skin cells and impurities revealing the soft, fresh, and youthful skin beneath. Its light-reflective crystals illuminate the skin, helping to soften flaws and boost radiance.
Que Bella Holographic Peel Off Mask
Use this elegant peel off mask to help exfoliate your skin and remove dead cells from the surface, leaving a hydrated and smooth looking complexion beneath. Similarly to the above masks, this also includes: Sodium Hyaluronate – a powerful moisturiser and humectant; alongside Violet Extract – providing a pleasant fragrance; and Jasmine Extract – long used for its health benefits as well as its lovely smell, jasmine has also been found to nourish skin, help even skin tone, and help protect skin from environmental stressors.
Que Bella Pineapple Peel Off Mask
For a fruitier mask, help skin feel toned and tightened with this refreshing pineapple peel to help gently remove dead skin cells to reveal a more glowing complexion. This mask is made from Ananas Sativus (Pineapple) Fruit Extract – which is both refreshing and moisturising; Sodium Hyaluronate; and Sodium PCA – an element of skin's Natural Moisturising Factor (NMF). It is used to help boost moisture content of the skin and provide intensive hydration, while improving elasticity and softness.
All of the masks mentioned can provide that sort-after glow, so choosing which one to go for depends on your required finish or scent, or why not try them all and let us know your favourite!