Face masks can help your skin in numerous ways. Here at Que Bella, we have thoughtfully designed our range to benefit various skin types for different purposes. By incorporating one of our masks into your routine, you should notice a visibly improved complexion and have enjoyed a wonderfully pampering experience whilst applying the product! In this post, we look at three of our masks, a mud, peel off and sheet mask and see why they are so great for your skin…
Que Bella Purifying Tea Tree & Witch Hazel Mud Mask
This is a deeply cleansing mask with a detoxifying blend of dead sea mud – rich in minerals such as magnesium, sodium, beneficial for maintaining healthy skin; witch hazel – legendary for its soothing cleansing and toning properties; and tea tree – is an essential oil with excellent antioxidant properties. This mask is ideal to help with oily and impure skin.
Que Bella Hydrating Pineapple Peel Off Mask
Help skin feel toned and tightened with this refreshing pineapple peel to help gently remove dead skin cells to reveal a more glowing complexion. Its ingredients are: refreshing and moisturising Ananas Sativus (pineapple) fruit extract; sodium hyaluronate – a powerful moisturiser and humectant which reinforces skin's short and long term moisturisation, helping to plump up the skin; and sodium PCA – an element of skin's Natural Moisturizing Factor (NMF), used to boost moisture content of the skin and provide intensive hydration, while helping to improve elasticity and softness. This mask is suitable for all skin types.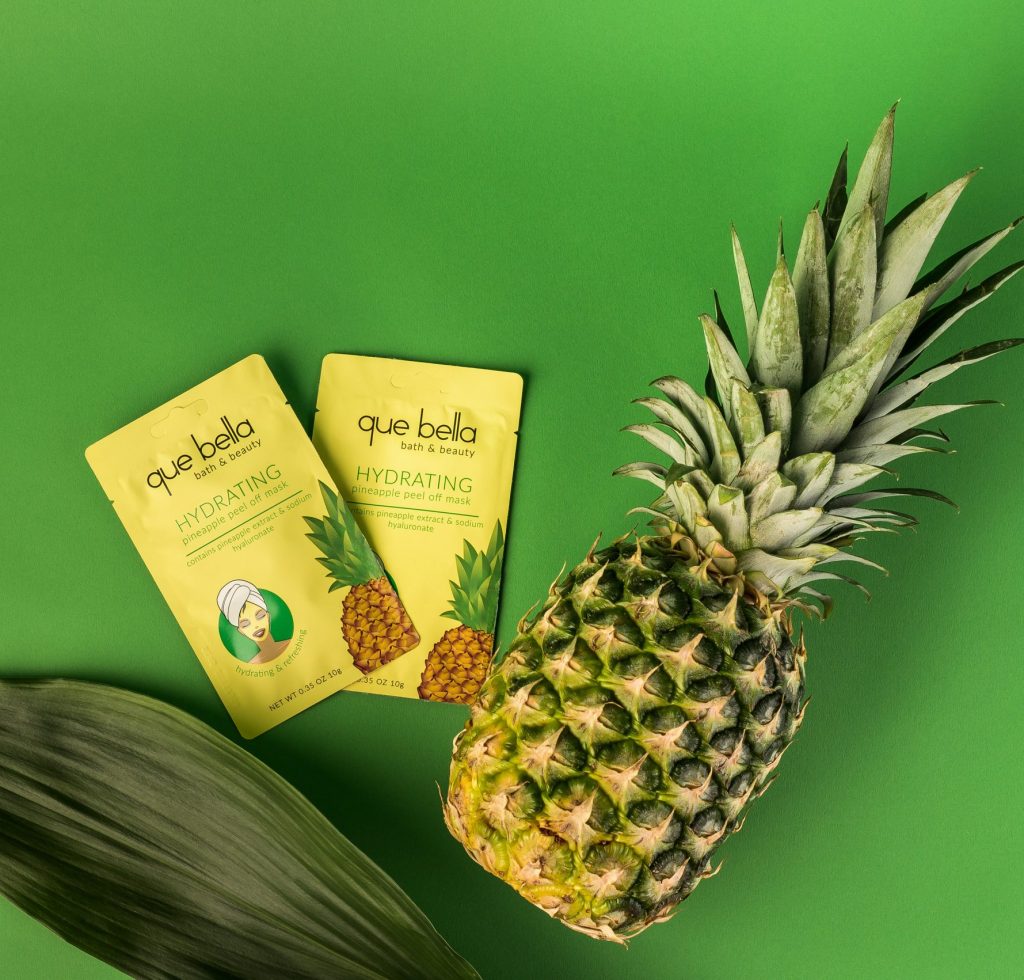 Que Bella Professional Deep Cleansing Charcoal Bamboo Sheet Mask
Replenish your skin with this bamboo charcoal fabric sheet masque infused with aloe vera extract – known to have various benefits including cooling, purifying, and rejuvenating properties, ideal for imperfect skin; witch hazel water – again known for its cleansing & toning properties; and iris extract – supplemented with zinc and vitamin A, helping to cleanse and regenerate the skin and plumping Hyaluronic Acid. This mask can be used for all skin types.
So, why not check out one of the above masks? Or any other products from our range? We would love to hear how they have helped you!