It's finally December and Christmas is just around the corner. From stuffing our faces with cheese boards, mulled wine and chocolate, family nights in and the long-awaited girls night out, let the festivities begin.
But… we can probably speak for us all when we say, we dread the endless list of Christmas gifts we need to buy. Not to be a scrooge but the past 18 months have certainly been difficult and shopping in-store, hasn't been the same, so when it comes to Christmas shopping we NEED to get organised.
Well, we're here to make your life easier with some festive gift ideas for your BFF's.
1. For the foodie friend
This idea's for the foodie friend in your life. Have a friend that can't get enough of good food? Why not get together a hamper of all their fave foods? Or perhaps a gift voucher for a meal out. You two can enjoy a girls night after the festive season!
2. For the skincare obsessed
We all have that one bestie that's just OBSESSED with all things skincare and beauty. You could put together a little basket of bath and skincare products. We're thinking bath bombs and festive face masks. Alternatively, our 6 Days of Masking professional face mask gift set is only $10 and perfect to wrap up and give to your bestie.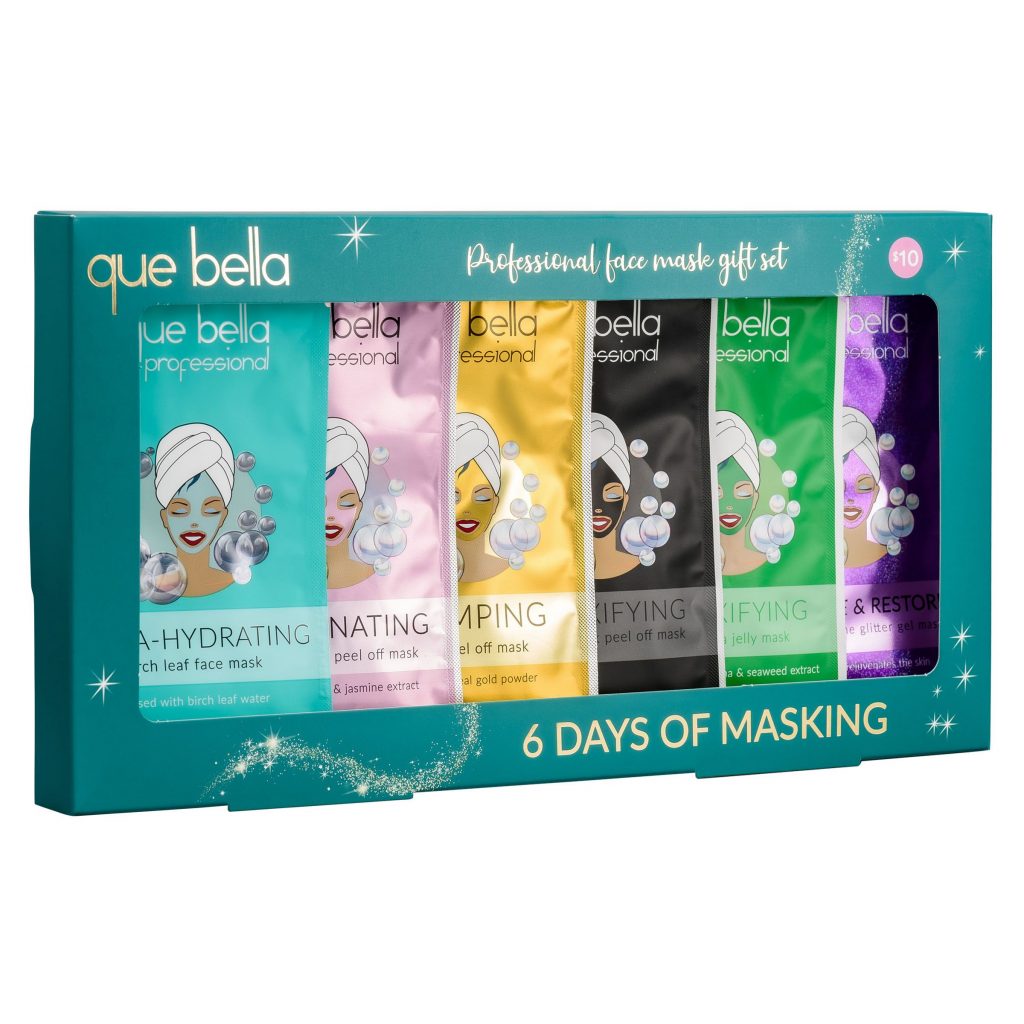 3. For the easy to buy and loves anything BFF
With this friend the possibilities are endless; they're just happy to give and receive! But if you're still struggling here's a couple of ideas;
What about a gift voucher for their favourite store, or a friendship message bracelet – they always go down an absolute treat.
4. For the one that loves Christmas
There's always a friend that just can't get enough of the festivities and we think Christmas PJ's are the perfect gift idea. You could even pick some up at your local Target or online at Boohoo whilst shopping for your Que Bella masks.
5. For the animal lover
I mean we all love animals, but if you have that one BFF that's your version of the crazy cat lady then a cute animal themed present is perfect. How about some cute kitten stationery or some pawsome (see what we did there) pet accessories. Ps. Que Bella is a cruelty-free band, so you could always include some of our best-sellers with their gift.
6. For the super-organised
There's only one thing to get a super organised friend and that's got to be a 2022 diary or organiser. Make it pretty and personal but you'll be on to a winner.
7. For the wannabe Mrs Hinch
You either love cleaning, or your hate it. If your BFF is a cleaning addict then you might consider putting together a selection of Mrs Hinch favourites! Think Zoflora or Fabulousa, pledge and lenor!