At Que Bella we're all for self-love and self-care. There's a difference between the two, but both are equally as important to help lead a healthy and fulfilled life. Self-love means loving yourself unapologetically, whereas self-care is about taking the time to feel good in your skin. Now more than ever it's super important to practice both self-love and self-care and develop your own little rituals to help to de-stress and unwind.
What is self-care?
To put it simply, it's taking time for YOU; taking care of yourself both physically and mentally and it's essential to maintain a happy, healthy and balanced life.
We'd be kidding if we said that Coronavirus hasn't taken it's toll on us all right? but if it's taught us one thing, it's to take more time out for us. Now that work-life is resuming, and we're back to our fast-paced busy day to day routines, aren't you missing watching day time TV in your loungewear? Or having a bubble bath and a face mask at 2 pm in the afternoon just because you can? The global pandemic presented us with so much extra time that this became the norm, but what's stopping you from doing both?
Why can't you have a busy day at the office AND ALSO take an hour to yourself to read a book and practice your skincare routine? YOU CAN! We simply just forget how to do both.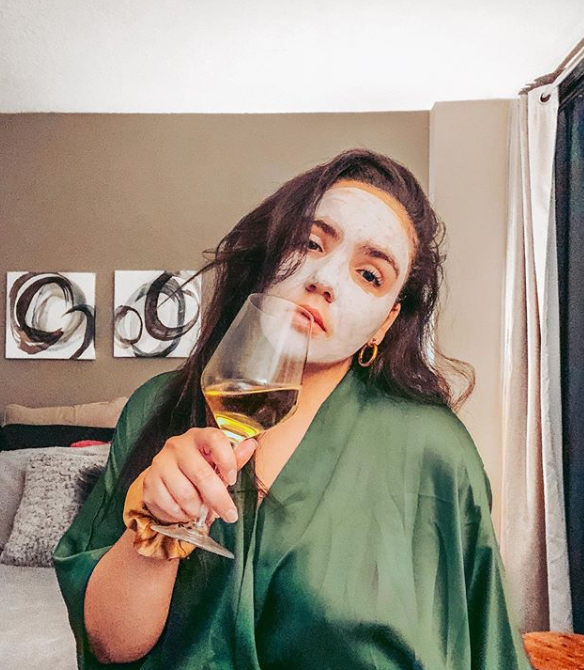 At Que Bella we understand the importance of self-care and want to share some of our favourite tips and tricks to help you join the self-love club.
Start the day by telling yourself something positive. Have you mastered that winged liner today? You own it girl. A great idea is to write each one down and pop it in a jar. By the end of the year, you'll have 365 positive notes about yourself.
Fill your body with good, nourishing food. Your body needs nutrients and a well-balanced diet. That doesn't mean you have to start each day with a kale smoothie, it's still ok to have chocolate and wine too. We all like feel-good food!
Take 20 minutes before bed to read a good book, fill your brain with dreams and fantasies and get a restful nights sleep. Not only will it help you to unwind and relax after a busy day, but it's also good little escapism.
Go for a walk, do a dance class, get on the exercise bike. Exercise is good for us in so many ways, not only does it make us fitter and stronger, it's proven to help with stress and anxiety.
Love the things that make you different. One of our favourite motivational quotes; no one is you, and that is your superpower. You are unique, and you are special. It's important to remember not to compare yourself to others.
Take a hot bath. Light some candles, pour yourself a cuppa and unwind. There's nothing better than a relaxing bubble bath to help ease tense muscles and wash your worries away.
Look after your skin, it's your body's largest organ and we often take it for granted. Develop a skincare routine and stick to it. Always remember to cleanse, tone and moisturise and go the extra mile by using a face mask treatment one to two times per week.
Surround yourself with people who encourage and motivate you. Positive people, encourage positive thoughts and this is absolutely key when practising self-love.
Listen to a podcast. This is one of our favourites… listen whilst you're getting ready for work or on your morning commute. Escape from the world for a few minutes and learn something new. There are so many podcasts available whether you're in the mood for something funny or instead you're trying to pick up on some new tips and tricks.
Write it all down. Head swimming with thoughts? Write a list or scribble it down in your journal. One of the best ways to clear your mind is to put it all on paper. Your head will feel so much clearer.
Get creative. Express yourself in whatever way you like! This could be painting, singing, dancing, or even tik-toking. Whatever suits you and makes you happy!
Set yourself realistic goals. Easy wins = big wins. Think about your short term goals as well as your long term goals. For example, you might vouch to go to the gym 4 times this week, but your long term goal might be to run a Marathon!
Make time for your friends. A pamper night in is the perfect way to unwind together. A girls night will also encourage you to talk to each other and get things off your chest. Face masks + Movies + gossip + giggles = girls night.
Buy yourself something new. We are firm believers that retailer therapy works!! This might be a new pair of shoes, or it could be something for your home. Whatever your heart desires, the choice is yours!
Have a technology detox. It's healthy to have a break from social media or your phone – even if it's just for an hour.